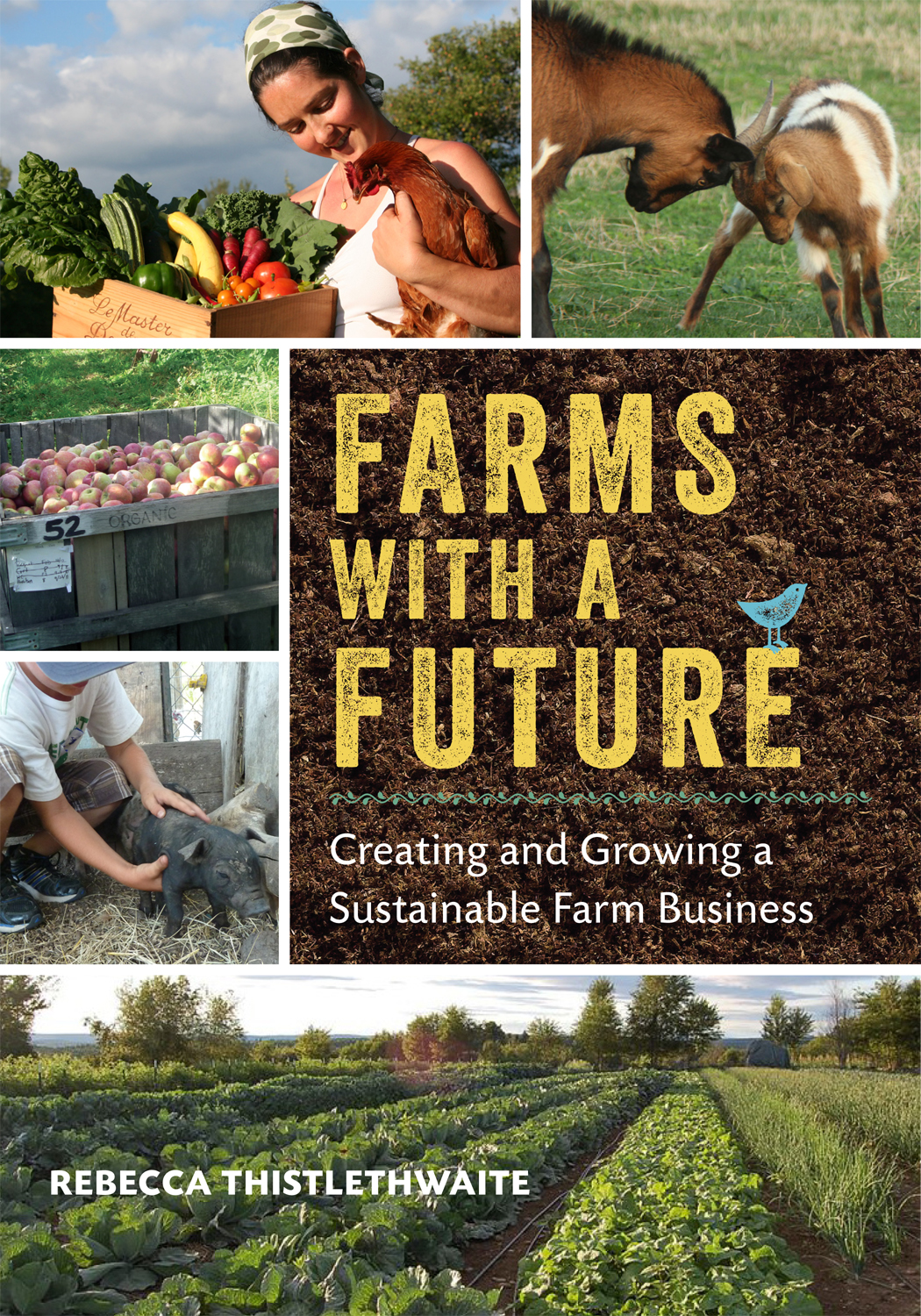 In her book Farms with a Future (Chelsea Green, 2012), American small farm consultant, sometime-homesteader and former family rancher Rebecca Thistlethwaite offers a brisk, yet detailed, guide to building and running a sustainable farm business. Writing on a range of essential topics including marketing, land access, finance and business planning, equipment, soil and water management, record-keeping and human resources her writing is concise and targeted, supported by her own experiences together with a selection of excellent case studies describing how the principles outlined are expressed in the real world. Each chapter offers a discussion of key issues and strategies for sustainable farms, a case study and summary of short, sharp "Take Home Messages" drawn from the text. While it is necessarily written for a North American audience, and some US-focussed sections on regulation or financing can be skipped over, there is still much here to inspire Australian readers.
Many guides to sustainable farming justifiably focus heavily on marketing and profit-making, and Thistlethwaite's advice in this area is cogent. What is refreshing about Farms with a Future is its acknowledgement of the farmer as a potential agent for positive social change in both sustainable land management and supporting food justice and empowerment in their local community. This is demonstrated particularly in Thistlethwaite's discussion of farm business planning, drawing from the Holistic Management model developed by Allan Savory, but also in her commitment to non-violent communication and enhancing the participation of family and workers in farm planning and process.
A couple of farm profiles that I found especially inspiring in this regard were that of Butterworks Farm, in Vermont, and Green Gate Farms, in Texas. Butterworks has grown since the 1970s to become a beacon of on-farm sustainability, with enviable levels of soil organic matter, and almost complete self-sufficiency in nutrients and livestock forage. The founders of Green Gate came to farming later in life, starting with a 5-acre vegetable farm in a neglected, semi-industrial corner of Austin. They began with a CSA scheme, but have maintained a commitment to providing food access to underserved communities, through fundraising to sponsor the cost of CSA boxes and other approaches. Both farms have a dedication to community participation, through their participation, or even establishment of non-profit advocacy groups for sustainable farming in their regions, education programs and more.
It's an affirming, inspiring and empowering book that makes me keen to get stuck into the business of farming. There are so many ideas in Farms with a Future that are relevant to us at this stage in our farm. Perhaps the one that was most reassuring to find repeated by numerous farmers is to start small and slow. To support this, Focus on developing one or two enterprises well, or drop them if they're unprofitable. Borrow or lease equipment until you really need to buy it, and be creative and flexible in both your thinking and your business planning. Farms with a Future doesn't just offer lists of strategies, it offers aspiring and establised farmers both the vision and the confidence to get stuck into build a sustainable, profitable farm.